Right now I feel like the most blessed person in the world. I am surrounded by so many amazing friends and the kindness that comes to me on a daily basis blows me away. Often it's the little things like a quiet how are you? a hug, a note in the post or an email, maybe a text message or two.
Then every once in a while, I get a bonus blessing and receive something in the mail. Then sometimes out of the blue on a very average day when I'm not expecting anything at all, I came home to a beautiful personalised gift like this one that Nat sent me.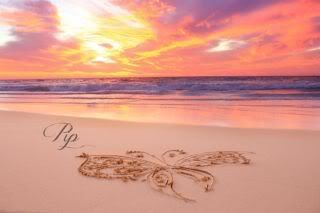 I've often admired Carly Marie's work but never thought I'd someday be lucky enough to have my very own sand butterfly on Christian's beach.
She'd bought it especially for Pip and sent it as a surprise! There were a few tears because it is such a blessing to know that our angel is remembered and lives on in the hearts of others as well as our own.
The colours stood out and I love the gorgeous pinky, yellowy hues in the sunset. The beautiful filagree butterfly is delicate and perfect. Nat said that the colours were what drew her to it. Pink for a girl and yellow for hope. I'm blown away by the thoughtfulness and then to have a friend who remembers the details as well! That's just a different kind of special.
Thank you so much Nat, for your friendship, for remembering our babies but most of all for understanding.