A couple of days ago, I wrote about healing hearts blocks. Since then a funny thing has happened.
Annie, my friend in Melbourne is the person responsible for introducing me to quilting. I fell in love with the beautiful baby quilts her mum made her son when he was younger and so I wanted to learn how to make my own.
Annie and her mum Barbara, a very accomplished quilter who has made some stunning quilts so far are also the people who guided me through my early foray into quilting by leading me astray into my fabric addiction...I mean...by offering gentle encouragement and kind advice. They also happen to be the ladies responsible for introducing me to the Southern Cross Quilters online guild and without them, I wouldn't know what a healing heart block is let alone half the things I have learnt since about quilting.
So I was very touched when Anne offered to make a heart block for Pip's quilt and I promised to send a patch of background fabric to her in the mail. While i was cutting all the background fabric into size this weekend, I cut up a block for Anne too.
It was a lovely surprise when I asked Anne for her mailing address and got a response asking if she could pick it up in person since she was up from Melbourne visiting family. We arranged to meet for morning tea at Barbara's place today and I had a lovely time catching up, admiring Barbara's latest quilts and talking quilty with them.
Before I left, Barbara pulled bits out of her very impressive stash and offered me some fabric for Pip's quilt! Quilters are usually a very generous and caring bunch, but I was very touched by the offer because it's a special privilege to be allowed to pick pieces from a quilter's personal stash. It's amazing how this project which started off with a simple idea of remembrance has also now played a role in reconnecting me with the very people who started my love of quilting! Talk about coming full circle.
We sat on the bed and looked through all the different fabrics and colours. In the end, I decided on a yellow fabric which I'm thinking I will use for the star blocks even though I already had another yellow fabric in mind. The yellow fabric has little multi-coloured hearts through it which match the ice cream colours of the quilt so far. I also loved an aqua fabric, also with tiny purple hearts because aqua is the birthstone for March (Pip's estimated due date) and a patch of gorgeous sun and moon fabric which I'm not sure how I will incorporate in yet.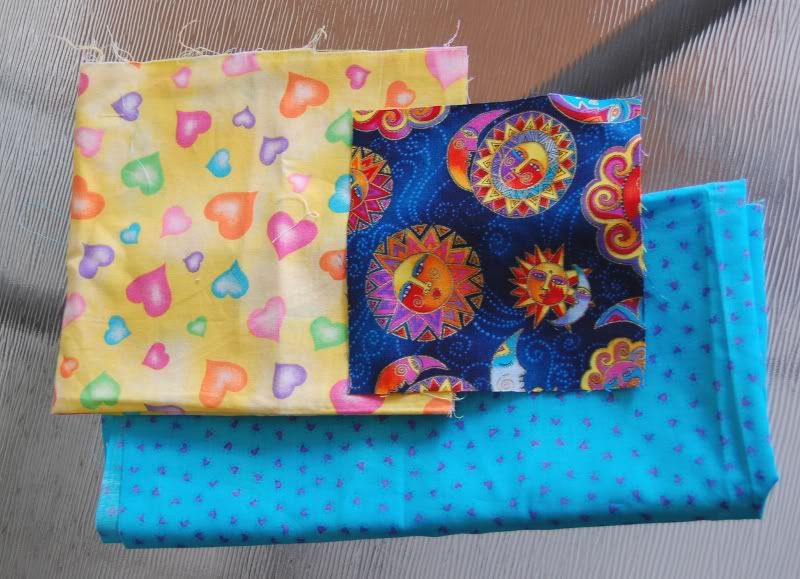 It's also funny that I was toying with the idea of doing a shooting star block (to symbolise hopes and wishes) instead of a standard star block I'd originally thought of to symbolise hope. The colours in the yellow fabric could easily be drawn out with other fabrics to make the trail of the shooting star and as Barbara suggested, the blue would make a nice border also.
Before I left, I asked Barbara if she would like to make a heart patch for Pip's quilt and she said yes. She even offered to do needle-turn work (which she hates) if I wanted! Now if that's not love, I don't know what is.
Thank you so much for your contribution to Pip's quilt Anne and Barbara. I can't wait to see your blocks and who would have thought that your quilty influence would someday give me the skills I have learnt from you and since to help me heal a broken heart.