So happy to have finished the first block of the quilt today!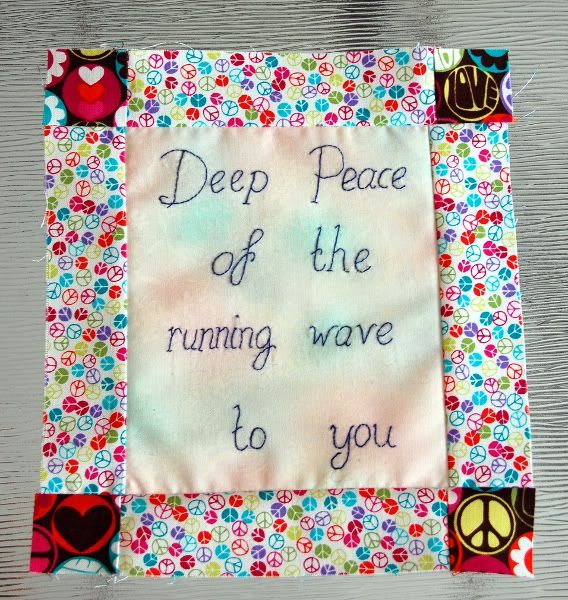 I spent the whole weekend working on it. I haven't quilted or done much sewing in a very long time, so I took extra care and twice as long to make sure that everything was just right.
The font for the embroidery is my own handwriting. I did think of using a typed font from my computer which would have made it a lot easier to transfer to fabric and work out with spacing, but using my own handwriting feels so much more personal. I had to fiddle with the spacing a bit and redo it twice, but I'm really pleased with the end result.
I also underestimated the amount of thread embroidery takes, so will have to find either matching thread for the rest of the blocks, or perhaps a different coloured thread for each verse, to match each element. Not sure of that yet, the quilt is already going to be so colourful, I don't want it to be over the top.
I found the fabric for the center panel where the embroidery is years ago in Japan and loved the colours. Again another dreamy purchase for a future baby quilt. Little did I know it would be going into a memorial quilt. The peace fabric was purchased online on etsy.
The idea with the corner squares is for the end result to show just the pattern of the circle, which was fussy-cut specifically, after it's been pieced with the rest of the quilt. It's kind of hard to picture what it will all look like from my descriptions, but it looks good in my head :)