A new country and eventually a new home. That's where things are at with our family at the moment. We've moved and while the settling in continues, it's important to me that Pip remains a part of our journey.
Most of our things are in storage and in packing boxes for now. But the one thing I could bring with me of Pip's, which was really too precious to leave up to chance and moving companies, is the handwork I'm doing for the patches of her quilt.
So in a plain yellow A4 envelope went the patches, the embroidery template, the embroidery hoop, thread, needle and scissors. I wanted to bring it with me as part of my hand luggage, but because of the needle and scissors, had to put it through checked in luggage. Hoping and praying madly that it would arrive safely. Particularly as our bags were checked through to our final destination while we spent some time in transit elsewhere in between.
The angels must have been watching over it because our bags were there on the conveyor belt when we got off. Thank goodness. Anything else could have been replaced, but not this. I suppose in the grand scheme of things I could have started again, but it wouldn't have been the same.
Yesterday I pulled out the patch I'd started on and finished a few more letters. I feel like it's taking me ages to get each letter done. That's probably because I'm being very careful that everything is finished properly. I need it to look good on the surface, but also be strong enough to last the distance as part of a quilt that will no doubt be loved to death and be washed many times as part of it's lifetime.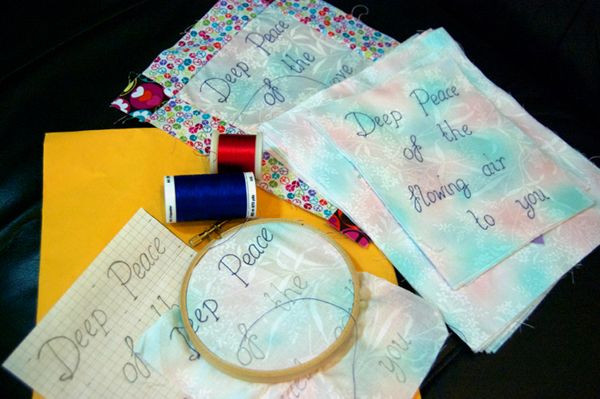 I feel a bit frustrated that it's taking me so long to get into the rhythm again, but I know that I will find my groove again once I get going.
As I was working on it, I started to think about the space in our new home the finished quilt will eventually live in. I'm inspired by Carly Marie's post on creating a special space in your home for your child/ren and the warm and lovely cosy feeling the picture of the space she has created for her son, Christian in her home evokes. One of the things I was really looking forward to during my pregnancy with Pip was creating her nursery. While it's not the same, nothing will ever be the same as far as that is concerned - I want our home to have a space for ALL our children. That is something that is very important to me.
It could just be a little corner or even a little picture or piece of artwork that symbolises something meaningful about Pip, but it will make a difference to me to know that she's in our home symbolically, if not in person. I like the idea of a place to curl up and read or listen to music while I sit and work on other projects. Hmm so many ideas, I would love to see what other people have come up with also. Sounds like another afternoon on Pinterest gathering ideas! :)