While waiting for the fabrics to arrive, I'm wondering how I'm going to make this quilt work. The primary fabric will be the apples with the pips, but each one I have chosen has a special meaning and I want them all to have their place in it without looking like a psychadelic mess.

I'm also thinking about what the quilt top will look like as a whole. I do like patchwork, but I want to do more than just machine
piecing. The plan is for it to be hand quilted, but that's jumping ahead a bit. So handwork may mean a bit of hand applique in the quilt top perhaps.

I like that idea. The most obvious choice is a heart-shaped applique pattern on a block. But that doesn't seem enough. A heart for love, so maybe a heart with wings for love lost?
That could work. I like the look of this little doodle, maybe for the quilt it will need to be a bit longer, depending on the size of the blocks. Maybe some stars too, for hope.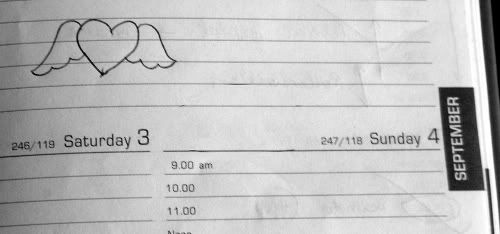 I don't want to go too crazy with the patchwork because the fabrics have so much character. I think I will stick with a simple nine patch design around the appliqued blocks. Perhaps a border or two after that, depending on the size it already is and that should give me a lap sized quilt at the very least.