When my baby died while she was meant to be growing inside my body, it felt like a piece of my heart died with her. Some days it felt like every cell in my body was bursting with pain. The more time passed, the more the shock wore off and the more that pain grew. I knew that I had to do something to help myself process this grief that is so very raw.

I'm a quilter. Or I was a quilter. I'd made a couple of quilts, all for family and friends, but somehow had never made one to keep for myself. I'm an artist, I dabble with different medias but have never really followed one path long enough to call myself anything in particular. I'm also a doer and a maker. When I'm bored, I find stuff to do (my husband calls this "looking for trouble"). When I feel restless, I make stuff.

And so as I waited for my miscarriage to happen, I toyed with the idea of making a quilt for Pip. The idea of pouring all my love and energy into making something beautiful to honour her memory was very appealing.

With that in mind, I started browsing etsy
to see what I could find and before the day was over, this maybe quilt has already started to form a life of it's own. The only thing I started off with was apples, because Pip is so named because she was the size of an apple pip when our pregnancy was confirmed with a bloodtest. I wanted to find a fabric that had apple pips on it and found this one straight away!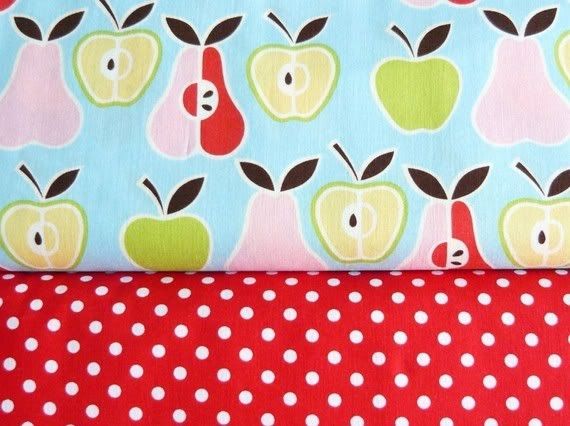 Then I started looking for love and found this...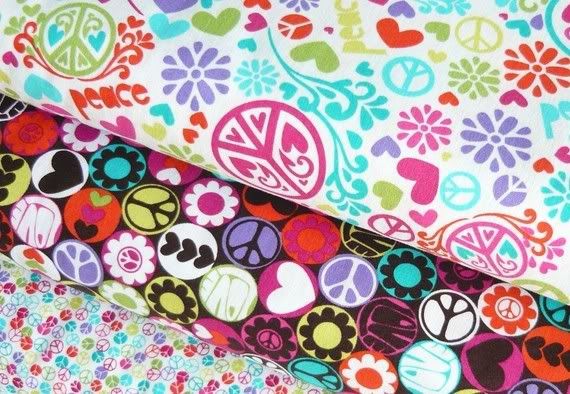 It's a bonus that it has peace too, because that's also one of my wishes for Pip.

Coincidentally both of those have pink and aqua in them which are so appropriate because we felt that Pip was a girl right from the start, so pink for a little girl and aqua because her birth stone would have been Aqua (estimated due date was March 23rd 2012). Red for love and a touch of yellow for hope which I'll hopefully find before too long. The only one I couldn't find was something that symbolised angels.

They're all quite "busy" fabrics, so I will somehow have to find a way to balance them out with more soothing fabrics, but it's a start.

I ordered them wishing that I was buying them for a baby quilt of a different kind. From the time I started quilting, I started hoarding fabric that I loved and had to have. So I have a stockpile of different pieces of fabric, each one picked specifically for a quilt I had in mind. Even though I wasn't ready to make my own baby quilt back then, I did have my weak moments where I caved and put away a special piece of fabric for the day when I would start to make my baby his or her own special quilt. It breaks my heart that this quilt will be a memorial quilt. It feels so wrong that my first baby quilt for myself it isn't going to wrap my baby up in love. When it's finished there will be no special little person for it to belong to. Instead it will be the very first quilt I have made to keep for myself.

Nonetheless, I am really looking forward to receiving the fabrics in the mail and making a start. My plan is to handquilt it once I've finished putting the quilt top together, which will take me forever, but that's not the point. As Mel said in her blog, this quilt will be my labour of love. I only wish that I was making a baby quilt and not a memorial quilt. But every quilt has a story and so the story of Pip's quilt begins.