Hi sweetheart,
It's mummy again. I haven't stopped thinking about you this week. Or ever, really. You are always in my heart. They say that time is supposed to help heal all wounds and maybe in time I will feel better, but this week I seem to have been missing you more than ever.
This week, I know of two beautiful children who have arrived in the world and their mummies and daddies are celebrating their joy with the world. I couldn't wait for the day when you would arrive, so that I could show the world my beautiful daughter. I know you would have been the apple of our eyes. In another part of the country, another angel mummy I know is grieving her little boy who was meant to arrive this week. I asked the world why are some families blessed with beautiful healthy children and not others? It doesn't seem fair that not every baby is born healthy and strong.
As hard as I try, I still don't understand why you were taken from us. It seems that everywhere I look, I see beautiful, glowing, pregnant mummies and it hurts my heart that you are not here with me where you belong. This week I also saw pictures of other mummies who are expecting their babies to arrive around the same time you were due. Pictures of their bellies growing with their babies. I looked down at my belly, it feels too flat and too empty without you here.
The doctor said that maybe you had to go because your organs hadn't formed properly and you couldn't survive. I'm so sorry that my body failed you and you didn't get what you needed from me to grow up big and strong. I would have given my right arm, my life and my soul for you if it would have helped to give you what you needed to be okay. Somedays I am so angry because I know that there was nothing I could do to help you after we found out that you weren't okay.
That one week we waited between scans, was the longest week of our lives. Did you hear daddy when he told you about all the places in the world he would like to show you? Did you hear me when I sang to you? You are still my sunshine and I hope that you'll know how much I love you and always will. I am so very sad today because my sunshine was taken from me.
I want you to know that I'm not afraid to talk about you, my darling girl. I don't have any photos of you to show the world, to tell them here she is, my little Pippy. But like any mother I know, I want the world to know that you were here, no matter however briefly you were able to stay. And everyone who hears about you knows how much we loved you. I wish you could hear us talk about you.
I hope you are in heaven where it's safe and warm. I hope that there are some very special angels there who can hold you when you're sad and tell you how much we love and miss you every single day. I hate the thought of you being alone. Maybe some day you will come back to us as our rainbow baby. Or maybe you're transformed now and you will stay to look over your family.Wherever you are, I hope you are okay and know love.
I've cried so many tears for you sweetheart and just when I think I'm all out of tears, there comes some more. I miss you so very, very much. There isn't a day that goes by when I don't think about you and wonder why all of this happened.
The other day I was in a store and felt someone watching me. I looked up and saw this little figurine sitting on a shelf above me. I don't usually buy or collect figurines, so it was strange that I fell in love with this one straight away. I have been wondering what shape the wings on your heart blocks should be and when I looked at the wings on this little angel, I knew that they had to face up like hers. She sits on my desk and I look at her and think of you. I love her, but I wish I didn't need anything here to symbolise you. I wish you could still be here with us.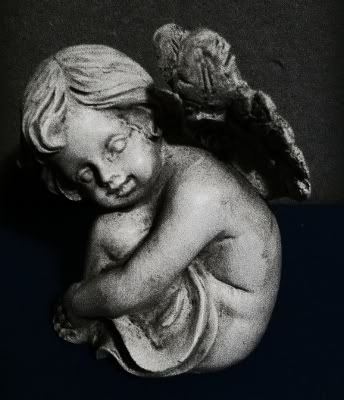 I miss you so much, Pippy.
I love you always and forever, to the moon and back,
Mummy xxx.