A few years ago I became a member of the
Southern Cross Quilters
online guild. One thing I have always loved about the group is a running project they've got going called "healing hearts".
The idea is that whenever someone is going through a hard time, a call for heart blocks is posted on the list and anyone who wants to send a block then does so. The design is usually a heart or combination of hearts on a plain coloured background. It's not unusual for the person to receive blocks from strangers who just want to show that they care.
So there I was working on the embroidery for pip's second block when I started thinking about my girl and wondering what she was up to on a day like this. I've often wondered if my angel baby was playing with the other angel babies I know. Which got me thinking about a very special little boy. If you have a moment, do pop by and
visit Nat's blog about her beloved Sebastian Levi
. I don't think I'll ever forget how even in the midst of her own devastating loss, Nat reached out to me and linked me in with a beautiful group of angel mums - something I am thankful everyday for.
I'd heard through her posts that a friend was working on a memorial quilt for Sebby which got me thinking about the healing hearts blocks and whether I could send one for Seb. So I got on to Nat and asked if she'd like one. With dimensions (which I eventually got wrong - Sorry Nat!), colours and an idea of what the rest of the quilt looked like, I was so excited to be able to send a patch for Sebastian's quilt.
It was a slight race against time because we were going away for a short break and Nat was moving house before we were due back from our holiday, so the block had to make it to her within the week. So now all I needed was an idea for a design!
I said a little prayer, "God, I've opened my big mouth and asked to make a block, please guide me!" lol So off I went to Lincraft - a local craft store that sells a range of sewing supplies to see what I could find. I knew that at her baby shower, Nat's friends had decorated blocks with ribbons and buttons, so I was looking to see if I could find anything special to put on. In particular I was looking for something crabby!
You're probably thinking, why a crab? Well, if you're familiar with the Disney cartoon, The Little Mermaid, you'll probably remember the character of Sebastian the crab. When Nat and her husband chose Sebastian's name, they likened it to Disney's Sebastian so that their children could have a point of reference for his name. The rest is history and Seb's "symbol" soon became a red crab.
So now I had hearts and a red crab. And I was looking for a button or something that would fit. There were plenty of red heart buttons but nothing really seemed perfect. So I walked around for hours in the shopping centre until finally I came to a craft store that I normally would have overlooked because it doesn't supply sewing materials. I don't know why I went in there knowing they don't supply sewing materials, but I'm so glad I did because in their scrapbooking section I found a bag of alphabetical beads. Close enough to buttons! I'd love to "write" something on Seb's block, but I didn't have enough time to embroider it, so I figured that this would be a great way to put my message on.
At home, I looked up images of stylized crabs and eventually came up with my design of a crab using hearts and buttons. Hours of tiny blanket stitches later and the result is as you see below: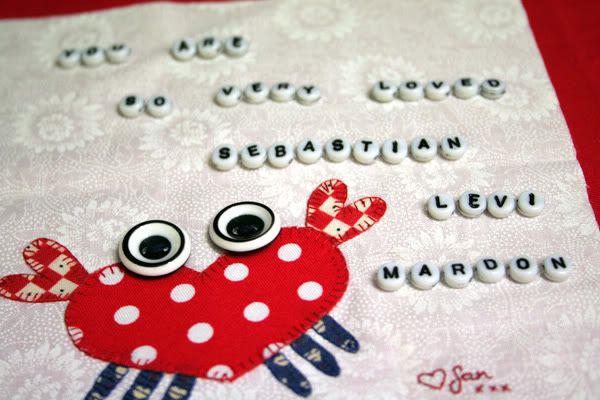 (Sorry Nat, had to pinch your photo as I rushed to post it and forgot to take some of my own pictures before I popped it in the mail! Oops!)
Thank you for allowing me the pleasure of contributing something towards Seb's quilt, Nat. I can't wait to see what happens with
the rest of the story!