The design for the heart block has been marinating in the think tank for a while. I agonise over every detail of this quilt because it has to be just right. Normally when I make and design a quilt, things happen on the fly. I trust my design intuition to guide me in the right direction and usually just work from a rough sketch that guides me from the start. I've never redesigned a quilt as many times as I have with this one though!
That day on the beach
when I wrote Pip's name on the sand
along with her other angel baby friends, I also doodled a rough sketch of an angel heart and really liked how it looked.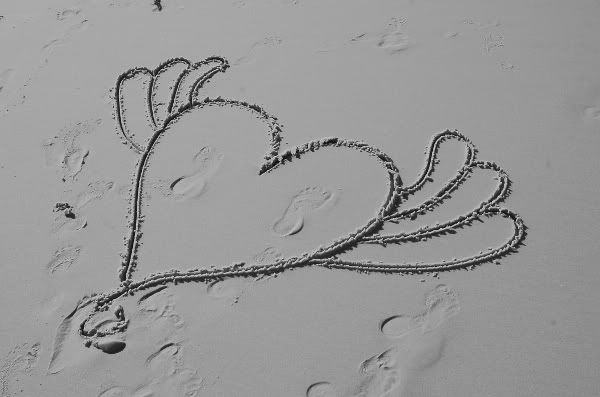 Today I finally finished the embroidery for the second embroidered patch. Work has been keeping me very busy and I don't want to work on it when I'm exhausted because the chances of making silly mistakes usually grows exponentially by the minute.
Then I started thinking about what the whole quilt will look like and decided to make some changes, so I drafted a mini projection of what the whole quilt may look like when it's done. I say "may" because it's already been through about 20 changes. Insert colours and I'm liking the way it's coming together.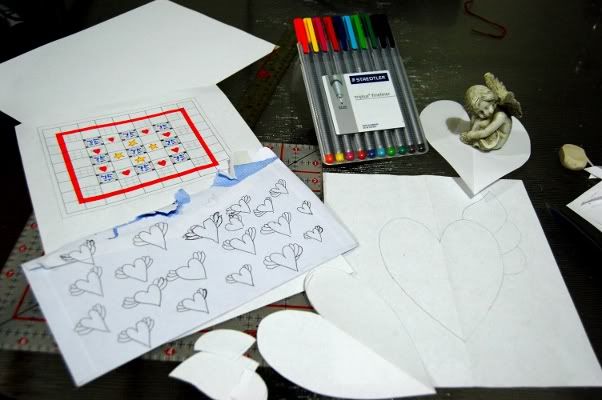 Finally after spending the better part of this evening doodling hearts on scrap paper and after many corrections, I think I'm finally approaching satisfied on what it looks like on the mock paper block. The sketch of the quilt is also a bit off in dimensions. The finished quilt should turn out to be shorter in width and hopefully long enough to cover the cuddlee's lap and legs.
As much as I am enjoying the hand embroidery, I can't wait to get started on a heart block now. Hopefully the turn around time for the heart blocks will also be a lot quicker!