Pip's EDD (estimated due date) came and went. It was a difficult day, but I was overwhelmed by all the support, emails, messages and love from everyone in my life. Thank you so much to each and every one of you, you helped to make a horrible day a little bit more bearable.
I wasn't sure how I would spend Pip's EDD, but I am so glad that I found out how I could help add value to another family's life in this small and beautiful way. So off I went to the shops that week and found myself 6 large journals and one small one.
The number, 6.5 is a bit odd, but it felt right to me to remember all the weeks of my baby's life.
I had the candles lit in memory of my girl and also in memory of her other angel baby friends. So many beautiful children not in our arms where they belong :( There's an undecorated stripy journal in the lower left corner of the picture (I forgot to take "before" pics!). But the candles helped to keep me company in a way, while I worked.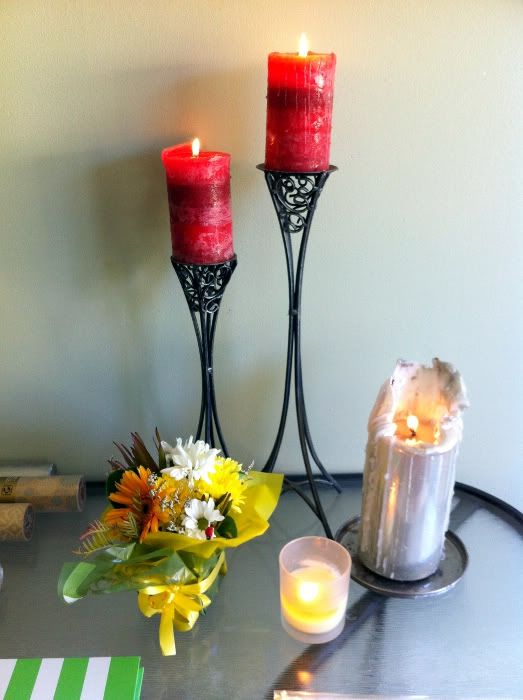 I decided to use a generic paper as the base and to add a few accents. It all looks so simple, but it literally took me the whole day and part of the next morning to finish all the journals to how I wanted them. It was easier for me to start working on a "girl" journal first. I love all colours, but pink is my favourite, so it won for journal #1.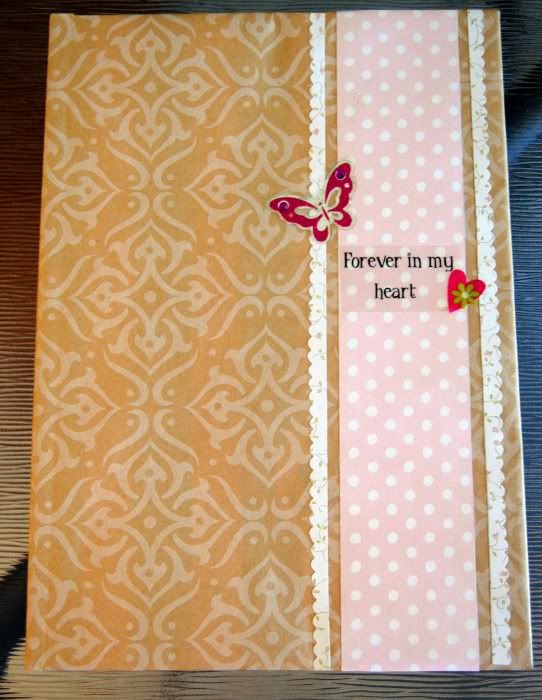 Journal #2 below is probably my a tie for my favourite along with journal #3, because I adore the little dragonfly but the quote resonates with me on so many levels. After I finished, I looked at all the journals and realised that some of the embellishments (okay most of them!) were crooked. But I love that there is that little touch of humanity to show that each one was hand made.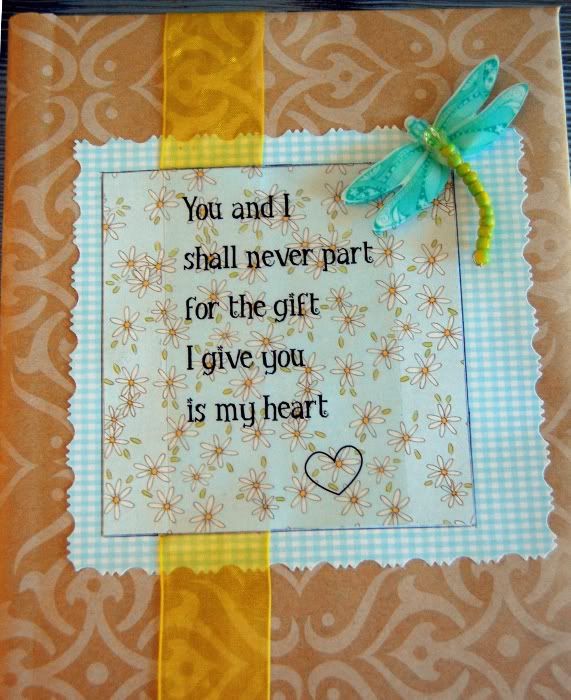 You and I shall never part for the gift I give you is my heart
The picture of journal #3 below doesn't do it justice. It looked a lot better in real life and I loved how the colours in the paper and embellishments matched the colours in the butterfly. I also really liked how the butterfly wasn't overly girly either. But best of all, the butterfly was a 3D sticker, so the wings actually rise above the rest of the body and the base. I love it's elegant simplicity.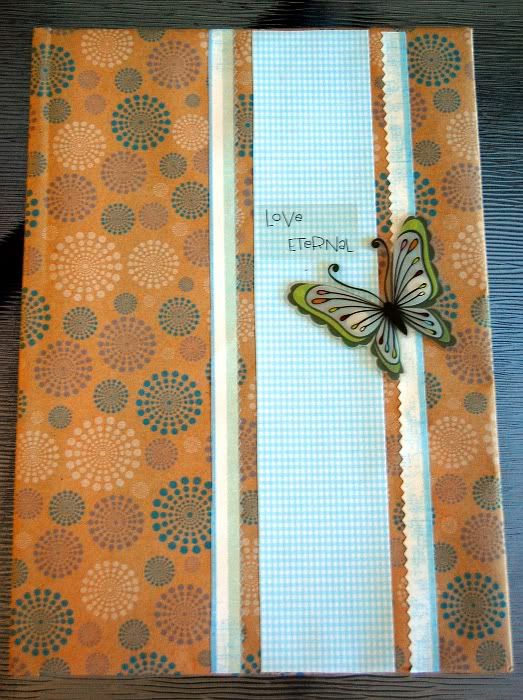 I tried to work on alternate journals, but got caught up in the boys ones. So back to the girls team for journal #4 below. I loved alternating the layers of paper and ribbon for this one. Yup, it's definately crooked! I couldn't decide where to put the hearts and I'm still not sure if it looks best at the top, but I love how there is a big heart (for mummy and daddy) and a little heart (for baby).
Although I do love the pink papers I used which were very soft, lovely and subtle, I wanted to mix it up a bit more. So for journal #5, I chose stars. Stars to me have always symbolised hopes and dreams and I loved using this starry paper here. I also wanted to create a journal that could either go to a family who had experienced a loss, but also to a family whose baby may be in the NICU (Neonatal Intensive Care Unit) or was born premature. I realise how important hope is to all families and parents, but especially to premmie parents. This is hitting a bit close to home as a friend of mine has just delivered her beautiful boy at 27 weeks and hanging on to that hope is one of the main things that will get her and her family through these next 3 months as their baby calls the NICU home for now.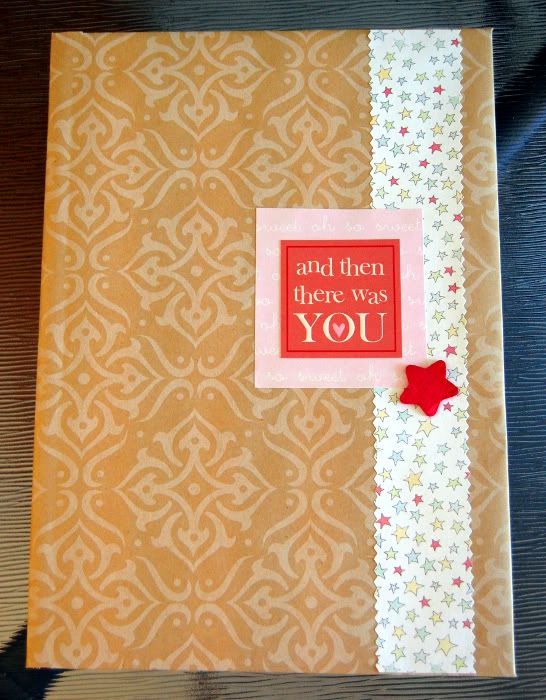 Okay so if it looks like I was starting to run out of ideas by the time I hit journal #6, that's because I may have been running out of ideas. My inspiration was that gorgeous little blue bird and his crown. It felt only right to balance the very girly "Sweet heart" journal with a more boyish offering for a little prince.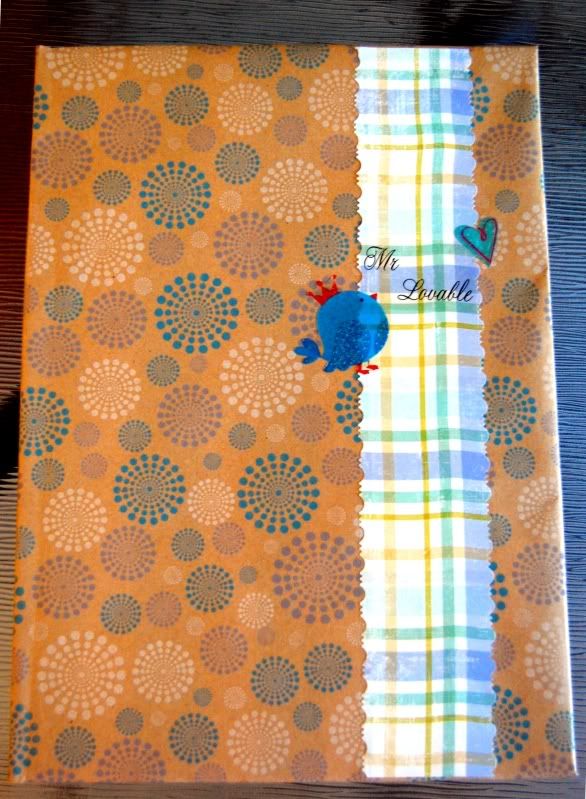 I loved the 3D butterfly so much that I had to add another one to journal #7. This one simply says "Memories". The colours are a lovely blue but with flower accents also, so it could go to anyone who would like it.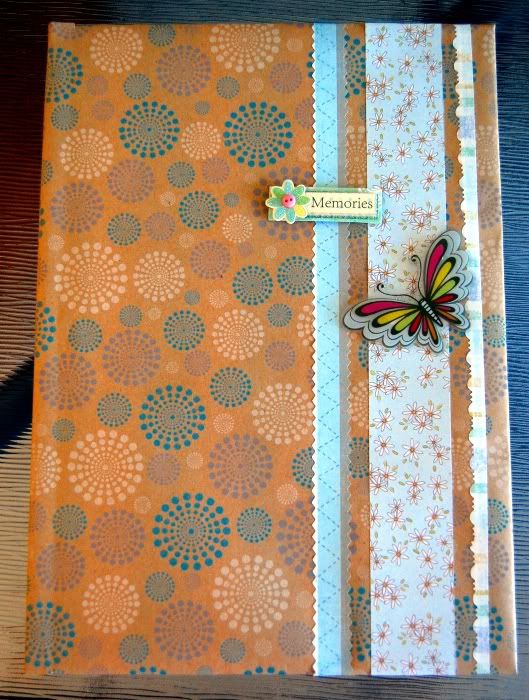 At the end of the day, I wanted to state the obvious, so I finished all the back covers off with a little reminder.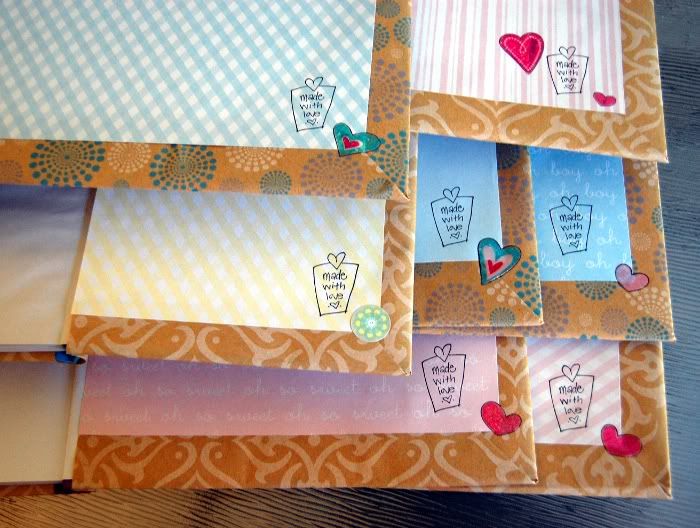 At the end of all this hard work, I got to deliver it all in person to the lovely Bec (Yasminah's mummy) who was hard at work on a Scrap for Yaz day, where I also got to make a journal for Seb! The picture isn't great, but there are two different shades of red paper on the cover. I have no doubt that I was meant to be there, even though I'd originally only planned to do a drop and run of Pip's finished journals. Bec charmed me into staying and when I sat down at a random seat and spotted this adorable tiny little felt crab straight away. Of course the crab is Sebastian's symbol. Thank you Nat for decorating a journal for my Pip the day before in the Scrap for Yaz event in Brisbane. Your little boy lives on in my heart. I have no doubt our babies are friends in heaven!