It's been a very long time since I've posted anything on this blog. I've been wanting to post over the past few months, but something always comes up and it doesn't happen. I'm so thankful that I've finally been able to carve out chunks of time to devote to a few posts.
So much to talk about, first of all I've been wanting to show you the lovely surprise I received after I mailed my prayer flag off for Carly Marie's October 15th beach prayer flag project. In my previous post, I talked about the prayer flag I made amidst the mad rush of packing and moving, how it didn't turn out as perfectly as I would have liked and as it might have, had I had more time to devote to it. But I found my peace with letting go of imperfection in the end. I
worked on Pip's prayer flag on the anniversary of her passing last September. A few days later I mailed the flag to Carly in Western Australia.
It's was 3 weeks after we'd arrived in our host country and after we'd moved into our new home that we were able to get internet access at home. I was slowly going through the backlog of emails and what a lovely surprise it was to find a message from Carly in my junk mail folder instead of the usual spam. Thankfully it hadn't been deleted in the automatically scheduled clean up. I suppose if anyone could understand how important the prayer flags are, it would be Carly. I was so grateful to hear that my flag had arrived safely and was being handled with the same compassion, care and respect I gave it. As a surprise, Carly added that she was sending one of her lovely butterflies as a thank you to every family who had participated. Here is the butterfly she sent us for Pip. Isn't it beautiful? I love the roses and the lilly in the body of the butterfly. If I close my eyes, I can almost hear the waves on Christian's beach and smell the salt in the air with the faint perfume of the lilly and the roses. What a special gift. It truly made my day and I was smiling for at least a week after receiving it.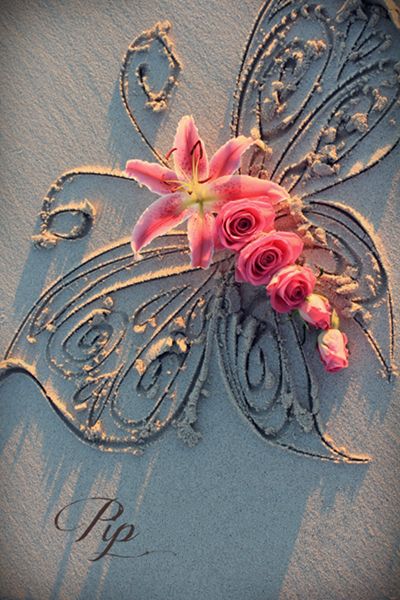 Carly, please forgive me for editing your beautiful photos. I removed our family name for privacy reasons.

I knew that Carly was planning to photograph the prayer flags that she had received from all over the world on October the 15th 2012. So I was waiting for her post to say that she had done this. However, very sadly the weather on the day was not what she had hoped for and in the end she staggered her photographs of the flags over a period of time.
Finally after weeks of checking back every now and then, I was so happy to see the photo of Pip's flag in her gallery. It looks so beautiful here in the candle light (and you can hardly see the iron burn mark! Not that I'm still obsessed with that or anything...)
It's amazing how this whole project was born out of the very simple idea of honouring our beloved children who are no longer with us. Yet the impact that it has had on my own healing journey has been tremendous. I don't know what it is exactly, or if it is any one thing in particular that makes me feel so at peace. I just love the thought of my flag, made with all the love and care I could muster on what will remain a sad day for me, flapping in the wind along with all the others. Each one a symbol of love and hopefully healing for one family out there in the world. Each one a message to the world and to our children that they are still loved, never forgotten. Thank you Carly, it meant so much to me to be a part of your special project.