The longer I am on this road, the more I realise I don't know. Every single day I discover another thing I thought I knew, which really, I didn't really know until that moment. It's a bit hard to explain, but some of these things are smack-you-in-the-face obvious, some are a bit ridiculous and others are just plain strange.
This week, I discovered that one of those things I didn't really know is how much I worry about my Pip and how she may be, even though she is no longer. Now this may sound strange for a woman who is grieving the baby who started to grow then died suddenly inside her. I guess that doesn't really make sense, but perhaps the closest way to put it is I need to know that my child is alright, wherever she may be right now. Be that heaven, a parallel universe or just dead. I know that sounds awkward but it's just so hard to explain this feeling without sounding stupid. So I will leave it to be what it is.
I have been dreading this week just as I have been dreading the approach of Christmas. I'm that person you probably know who loves Christmas, Birthdays, Anniversaries...you name it, I probably love it!
Until now.
For the first time in forever, I'm not excited about Christmas. I'm not even really looking forward to it. Part of me is sad that I seem to have become the Grinch that doesn't really like Christmas or maybe I'm morphing into that Bah Humbug person. But the other part of me understands that it will never be the same again. And that is okay too.
I've been finding a lot of comfort in my fellow babyloss mamas blogs. There are so many amazing ideas out there on how to honour our babies. I read them all and file mental notes on what I can probably pick up on soon or in the future. So when I came across Fran's
12 days of Christmas posts
, I loved hearing from all her different guests on how they honoured their children.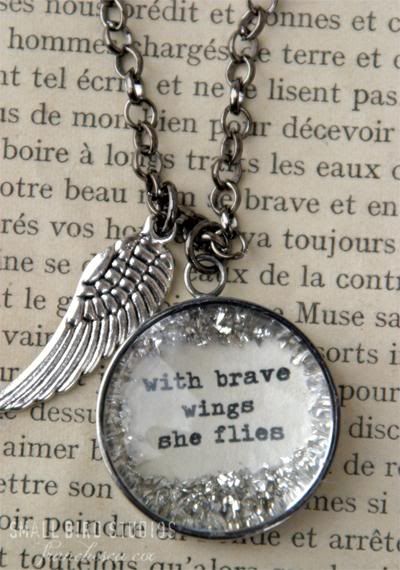 The moment I saw this necklace that was donated by
Beth Quinn
, I was in love. It wasn't in a coveting sort of
"must have that"
love, it was just that feeling that made my heart sing in a way I thought impossible in a time when everything hurts so much.
If you read Fran's post, she explains Beth's concept behind the necklace:
"...her piece "with brave wings she flies" was created from knowing that everyone she has there own story .. life isn't always easy … every she is going through or has been through a life experience that has challenged them in some way .. and sometimes we just need a little reminder that we are brave and we can fly .. making it through our journey of life .."
I remember reading this at the time and the more I looked at the picture, the more I thought that if by some miracle I won this with my very ordinary entry post, I would take it as a sign from the universe that Pip is okay. And so I entered my name along with the 129 other hopefuls to have a chance at winning this beautiful piece of art.
I was so convinced I didn't stand a snowball's chance in hell of winning that I actually didn't even really pay attention to the time when the winners of her giveaways would be announced. I just vaguely remembered that it was sometime during that weekend.
On the Monday morning, I logged on to see who the lucky person was and almost fell of my chair when I read this. I literally had to read it about five times to make sure that it wasn't a joke!

And even then, I still couldn't believe it. I emailed Fran in a blurry haze of tears and asked for confirmation and told her what winning this necklace, with those words, at this time of my life meant to me. Then cried some more.
It really seemed too good to be true. I was entering a giveaway for the first time on her blog and to be honest, I'm not really the kind of person who wins things!
Over the next few days, both Fran and Beth were in touch and I only said thank you about a hundred times to them both, I must have sounded like a broken record. But how else do you express a sense of gratitude like this?
I know there may be some out there who probably think I'm reading too much into this coincidence, but I still love the thought that perhaps this is my girl telling me that she is indeed okay and will wear it when it arrives to remind me that she is somewhere better now, pain free. Maybe someday when this heartache isn't quite so severe (will that time really come, I wonder?) I may be able to wear it for myself as a symbol of this experience and a reminder that I too, have flown before and maybe, just maybe, can fly again. Broken wings or not.