Hello sweetness,
It's been 4 months today since we said goodbye. Slowly it's getting easier to breathe. I smile more often. Cry tears less often, but they are still there. The main difference is I can talk about you more often in face to face conversations and smile, whereas before I could barely choke out the words through tears.
One of the two special ornaments I had made especially for you arrived in the post today. It is actually an ornament meant for school teachers I think. The person who makes them usually puts teachers names on them, but when I sent a message explaining what and why I wanted it just so, the artist was more than happy to oblige. I feel so blessed to have found an artist who understood how special this is to my heart.
I'd spent many hours in December looking for the perfect apple ornament for my special apple pip baby. So much time trolling through websites, not really sure what I was looking for exactly but trusting that I'd know it was the perfect one the moment I saw it. And so it was.
A sweet little handmade apple, perfectly detailed and lovingly hand painted. With two little hearts as apple pips (this time you are the whole apple itself and daddy and I are the little apple pip hearts on it who love you). And all in a beautiful hand painted red apple. It arrived two days before your 4th anniversary. Perfect timing.
The love and care that went into the ornament is obvious. I'm so glad that I had it custom made for you. It will hang on our tree and follow me around the house as I hang it on various things throughout the year, just to have a piece of you near me.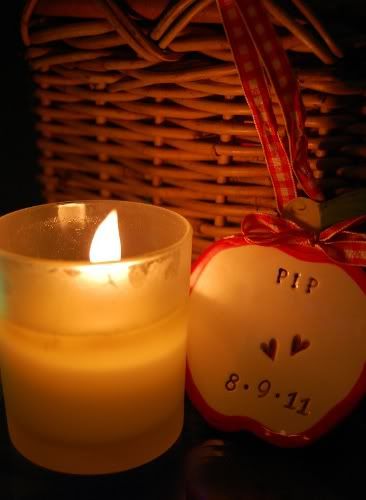 (It actually has our family name under "Pip" but I took it away here for privacy reasons)
I lit your candle tonight and said a prayer for you my little love. I hope you are happy and at peace. Daddy and I miss you and love you so much.
Love always,
Mummy and Daddy xxx