One of the things I really struggled with in the lead up to Christmas last year was how I'd remember and include our angel baby in Christmas from here on out. I shopped for ornaments in the stores around me but couldn't find anything that really fit Pip. All the Christmas angel ornaments I found were beautiful, but they were all adult angels as opposed to baby angels. When I did find ornaments for babies, they were all "Baby's first Christmas" baubles in one form or another.
Since we married, we've had a tradition of adding an ornament or three to our Christmas tree each year. Often it's something that represents the country or place we're living in. But this year I knew it had to be a special one for our special baby. And so once the search in the world around me proved fruitless, I turned to the internet.
How do I love thee Etsy, let me count the ways! The little angel ornament on the right caught my eye from the moment I saw it on my search listings. I'm not sure what I loved exactly, perhaps it's the fact that the angel is clearly not an adult, or perhaps it was the way she was holding her teddy bear that seemed so innocent and childlike.
But I felt a connection to her and the rest was history.
The lovely artist who made it also gave me the option of customizing her hair and skin colour (a very significant detail which helps this ornament mean so much more to me personally). So our little angel ornament ended up with curly dark hair (curly like mummy's and dark for both mum and dad). I also loved being able to customize it with Pip's name. I would have loved to have given Pip her own special teddy bear and so who knows? Maybe this is my way of indirectly filling that void too. I prefer not to over analyse.
In the end, I was also blessed with the angel figurine on the left as a gift from the artist! Thank you so much! How lucky am I? I love her, she's so beautiful and I absolutely love how she doesn't have a face, because she could be anyone at all that way.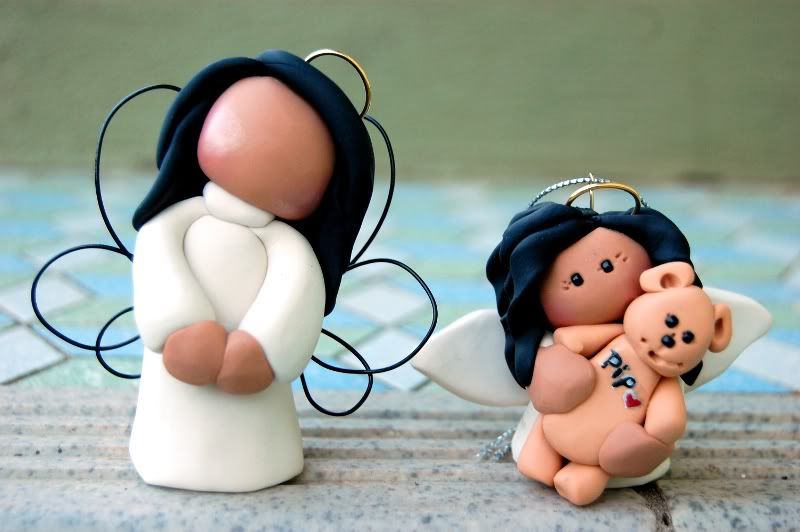 I haven't decided if the bigger angel is Pip's guardian angel or mine? Either way, I know that this pair will be a very special part of our future Christmases, but for now like my other things for Pip, they follow me around the house and keep me company everyday. My girl is never far from me, in thoughts, materially through the things I have around to remind me of her and in my heart. I am indeed blessed to have the freedom to remember and grieve my child so openly.